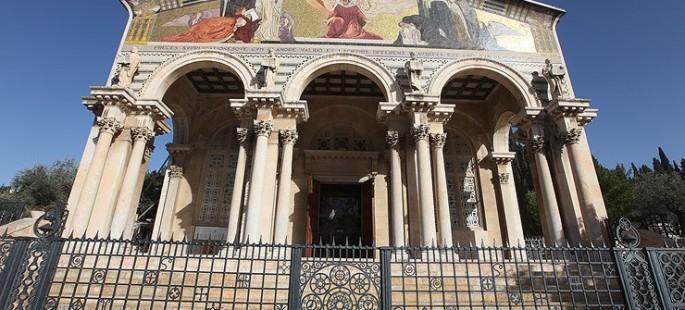 "What is Church land?"  I am constantly asked this question by Israeli and foreign buyers alike when telling them about a beautiful, often expensive, property in the most prestigious neighborhoods in Jerusalem.  Many of those who have heard of Church land proclaim " no Church land!" when listing their criteria for buying an apartment in Jerusalem.  Which brings us back to the question – What is Church land?
Church land refers to property on land owned by a number of various Churches who have a physical presence in Israel.  These Churches began purchasing land in Israel as early as 100-200 A.D.  It is said that sixty percent of Church land in Israel is owned by the Greek Orthodox Church (which interestingly enough only makes up about eight percent of the Christian population in the world).
According to a study published in "Globes", of the 4,750 dunams that the Church owns in Jerusalem, 550 dunams are leased directly to private residents or through a governmental intermediary (i.e KKL).  Originally, most of the land was leased for a period of 100 years.  Many of these leases were created in the 1950's; therefore many of the leases expire in the 2050's.  Some of the leases expire even earlier, including the land that houses our very own Knesset.
So what is going to happen to all of that land?
Can the Greek Orthodox Patriarch, who is the third largest landowner in Israel, simply decide to kick tenants out?  What is it going to cost to release the land?  And how does this affect the value of such a property?
It is not clear what would happen, hypothetically, should the Church decide to appropriate an apartment sitting on land that belongs to them.  According to Morris Rubin, Attorney at Law, it all depends on the type of lease you are dealing with.  A lot of the properties in the Rehavia /Talbieh area are leased out by the Greek Orthodox Church through KKL.  This essentially means that the Church must negotiate with KKL in order to reach a new lease agreement.  If they do not reach an agreement, the Supreme Court of Israel will appoint an intermediary.  This, according to Rubin, is the best type of lease you can have with the Church.
Other leases, those without KKL as an intermediary, are a bit more problematic.While no one really believes the Church will start kicking people out of their homes, the Church is still a political entity in Israel.  In the year 2007, there was a dispute between the Greek Church and the State of Israel over the state's refusal to recognize the appointment of Archbishop Theopolus the Third.  This was in light of an alleged promise made to Jordan and the Palestinian Authority by the new Archbishop to hand over a list of all of the Church properties in Israel.
In other words, the Church has a political interest in retaining properties in Israel.  However, the history of Church land points to a different, but greater motive than politics.  That motive is money, of course.  The Church is going through financial difficulties and the money they receive from leased land is important to their financial survival.
How much the Church will receive from renewed leases in the future is still a mystery.
Leases that have already expired were renewed for typically a few hundred New Israeli Shekels.  While, in the aggregate, that is a significant sum to the Church, it is quite insignificant to each individual lessee.
So how does being Church land affect the value of such a property?  In an article in "Globes", Koby Bir, a licensed appraiser, claims that it depends on the amount of years left on the lease.  In Bir's opinion, if there are under 40 years left, the property's value can decrease by as much as 30%.  For example, 3-room apartments on KKL St. in Rehavia with Church leases expiring in 2034 / 2035 were sold for NIS 1.25-1.3 million , while the same apartment on KKL that is privately owned could easily go for about NIS 1.8–1.9 million.
The following is a table based on Bir's estimation:
| | |
| --- | --- |
| Remaining years | Decrease in Value |
| 100 | 0% |
| 75 | 3.36% |
| 60 | 7.68% |
| 50 | 12.34% |
| 40 | 19.23% |
| 30 | 29.43% |
| 20 | 44.54% |
| 10 | 66.90% |
Before looking at properties in Jerusalem, a prudent buyer should obtain the services of a real estate attorney who works in Jerusalem and is familiar with Church land.  When looking for an apartment in the most central locations in Jerusalem, there is a very good chance that the apartment you love is leased from the Church.