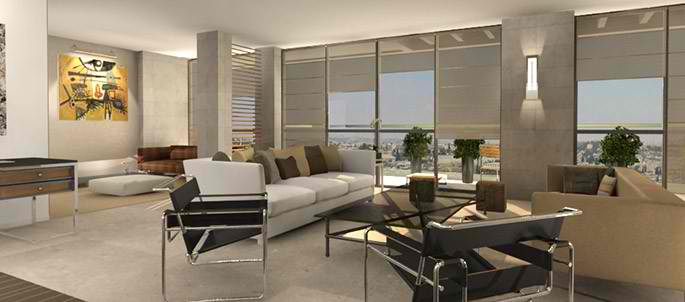 A luxury residential tower second to none in one of the most up and coming neighborhoods in Jerusalem.
The high location of the tower guarantees breathtaking views of all the mountains around Jerusalem, the Old City, from the Temple Mount to the Mount of Olives – all of Jerusalem is in plain clear site from the gorgeous floor to ceiling windows.  The building boasts a wonderful spa area with a private swimming pool, gym, and sauna all for the exclusive use of the buildings residents.  There is even a business center on the main floor.  The building is a secure one with 24 hour guard service and almost each apartment comes with private parking and an elevator.  Here is a video of one such apartment on the 21 st floor.

Apartments are built at very high standards.  All high floor properties come with underfloor heating and central A/C.  The apartment have beautifully designed kitchens, doors, and modern windows giving you that terrific bird's eye view of Jerusalem.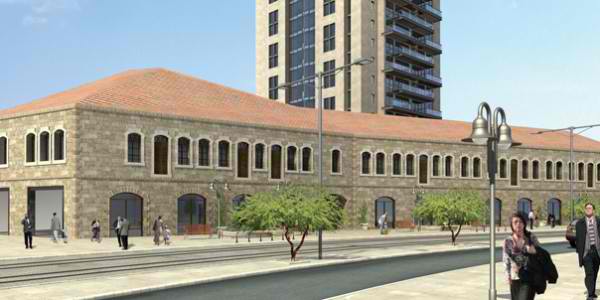 The location is fantastic.  The tower is its own little enclave off of Yaffo St.  There is a gorgeous newly built shul, and well manicured grounds surrounding the tower.  The light rail is literally across the street from the Tower giving you access to all the Jerusalem neighborhoods.  The building is right off of Shuk Machane Yehuda, a short walk to Nachlaot and a straight 20 minute walk to the Kotel and Mamilla.
Pricing varies, but is more affordable than most comparable projects and there are only a few apartments available so call us today!